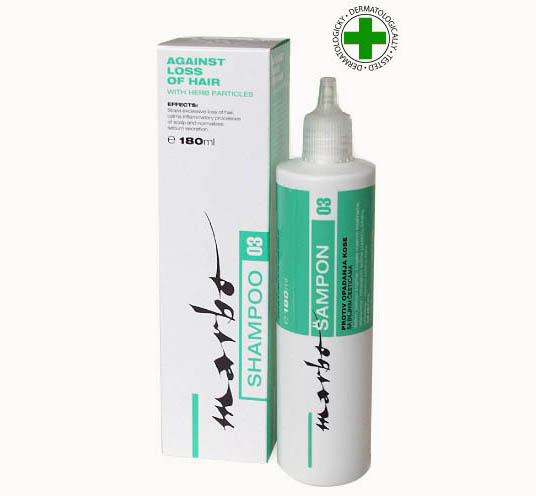 For hair lossMarbo Shampoo,
made from plant ingredients, is a unique combination of healing herbs. Active ingredients of nettle enriched with fatty acids, vitamins and mineral salt promote local circulation on the scalp and restoration of hair rootlets. Extracts of salvia and rosemary regulate seborrhoea and have a soothing effect on the irritated scalp.
Dermatological research and testing for 20 years. Dermatologists have confirmed the effects of Marbo 03 Shampoo for restoring hair loss.
EFFECT:
It stops excessive hair loss, soothes the irritated scalp and puts seborrhoea back into normal. It strengthens featherlike and thinned hair and is very effective for women suffering from seasonal hair loss (spring, autumn).
Dermatologists recommend Marbo Shampoo 03 for preventive treatment of hair after colouring, crimping, permanent marcel wave or other hair treatments.
INGREDIENTS: Herbal extracts:
Rosmarinus officinalis, Urtica dioica, Hedera helix, Salvia officinalis, Juglans regia, Arctium lappa, Allium sativum, Betula alba, Matricaria chamomilla, mountain water, lemon juice, Sodium laurech sulfate, Cocamidopropyl Betaine, Propylene Glycol.


USER GUIDE:Apply shampoo to hair twice. During the second application, create a foam and let it sit and take effect for 1 to 3 minutes. Rinse with warm water.
Wash your hair as necessary or after using Marbo Tonic.
Period of use: 3 years. The date of manufacturing is printed on the inside of the box lid. Package: 180 ml
Original recipe and manufacturing "MARBO CLINIC".