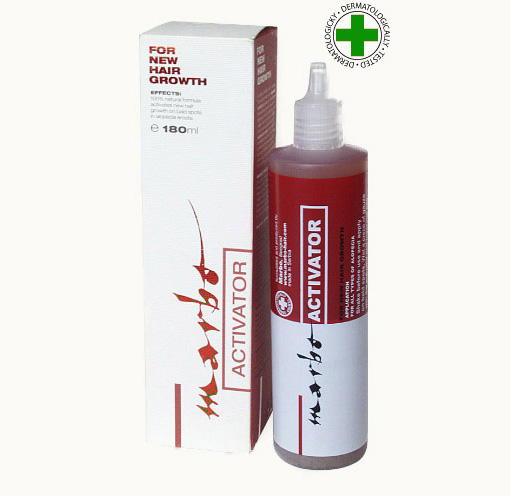 Guaranteed to activate new hair growth

Marbo Activator is a 100% natural herbal product for growing new hair.
Activator is a new type of local stimulator for hair growth made from natural extracts and components from rare healing plants, which are located only in certain geographic locations and altitudes. It is completely different from traditional stimulators, which are based on chemical substances.
It is made from natural components of herbal extracts from specifically selected healing herbs, which promote hair growth.
It activates hair growth in areas where hair is thinning or the skin is exposed – where the hair has fallen out completely.
Successful with any type of Alopecia ALOPECIA, particularly effective with the types: ANDROGENIC ALOPECIA – hereditary hair loss affecting males and females and ALOPECIA AREATA (spot baldness).
It is equally successful with children and adults.
The unique formula of "MARBO ACTIVATOR" enables microcirculation on the skin where hair follicles exist and it has a phylogenetic effect on the revitalisation of follicles on exposed areas, which enables the hair to grow quickly.
It is safe for various types of skin, even the most sensitive.
It does not produce any negative effects, even after several months of use.
After application on the skin, it absorbs and does not leave a greasy mark.
First results can already be seen after 10 to 30 days.
This unique product has already helped everyone who has used it in the past 20 years.
The quality and effects of "MARBO ACTIVATOR" have been confirmed by long-term clinical research in dermatology laboratories as well as thousands of patients who have recovered permanently thanks to this natural product.
It has been tested on patients with the diagnosis of androgenic alopecia and alopecia areata, in particular on patients who suffer from various forms of this illness, such as benign form, as well as on patients with unfavourable projected progress of the illness (ophiasis) and also patients with the complex (malign) form of the illness.
Achieved results: a success rate of 71% with treatment of patients with the diagnosis of androgenic alopecia (hereditary hair loss affecting men and women)and 83% with treatment of patients with the diagnosis of alopecia areata.
INGREDIENTS:
Plant extracts : Rosmarinus officinalis, Urtica dioica, Hedera helix, Salvia officinalis, Jugians regia, Arctium lappa, Allium sativum, Betula alba, Matricaria chamomilla.


EFFECT: 100% natural formula
It brings the revival of hair growth on thinned and exposed areas.

USER GUIDE:FOR ALL TYPES OF ALOPECIA
Shake before use and apply to exposed areas of complete or partial hair loss.
Wet a piece of cotton wool with ACTIVATOR and apply (massage) to exposed areas twice per day.
Repeat every day until hair begins to grow on exposed areas.
First results can already be seen after 10 to 30 days.
The only product which guarantees new hair growth. You can achieve the best results by using Activator together with Marbo Tonic and Shampoo 03.
Period of use: unlimited Package: 180 ml
Original recipe and manufacturing "MARBO CLINIC".