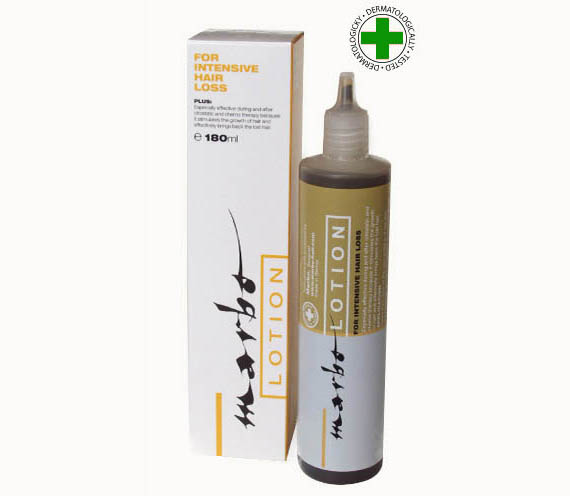 Prevents excessive hair loss
Marbo Tonic is a 100% natural product treating intense hair loss.

Tested for 20 years in Marbo dermatology laboratories.

The effect of Marbo Tonic is dermatologically proven even in cases of intense and long-term hair loss.
EFFECT:
The natural formula of Tonic stops intense and long-lasting hair loss and promotes new hair growth.
Very effective during and after cytostatic chemotherapy because it supports renewed hair growth and returns lost hair after a short time.
Especially effective with women for seasonal hair loss (spring, autumn) and for hair loss caused by stress or bad nutrition.
Dermatologists recommend Marbo Tonic for preventive hair treatment.
INGREDIENTS: Herbal extracts:
Rosmarinus officinalis, Urtica dioica, Hedera helix, Salvia officinalis, Jugians regia, Arctium lappa, Allium sativum, Betula alba, Matricaria chamomilla, mountain water, in 50% alcohol solution.


USER GUIDE:Apply Tonic once a day directly on the scalp, i.e. hair follicles. Gently massage with your fingertips for one to three minutes so that active ingredients absorb into the skin and the hair follicles. Let it take effect for 15 to 30 minutes, then rise the hair with Marbo 03 Shampoo.
Period of use: unlimited Package: 180 ml
Original recipe and manufacturing "MARBO CLINIC".